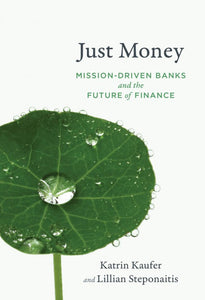 Mission-Driven Banks and the Future of Finance
By Katrin Kaufer and Lillian Steponaitis
This book explores how to use finance as a tool to build a more equitable and sustainable society.
Money defines our present and will shape our future. Every investment decision we make adds a chapter to the story of what our world will look like. Although the idea of mission-based finance has been around for decades, there is a gap between organizations' stated intention to "do good" and meaningful impact. Still, some are succeeding. In Just Money, Katrin Kaufer and Lillian Steponaitis take readers on a global tour of financial institutions that use finance as a force for good. They discuss what it takes to build and operate a mission-focused business, whether the Just Banking model is scalable in the face of systemic barriers, and how to assess impact effectively. Finally, they introduce the logic of ecosystem finance, in which business decisions align with societal needs so that "just" money becomes a tool that serves nature, human development, and social justice.
Note: As of February 2023 we will no longer be shipping this product internationally, due to some changes in tax collection requirements.  You can still purchase this product here instead.